HOW WE HELP
OUTPATIENT REHAB SERVICES
Guiding You Through Your Road to Recovery by Treating the Mind, Body, Soul and Spirit.
Outpatient rehab services provide a number of benefits to an addict. Some, in fact, thrive in outpatient rehab and do better in this type of program than they would do in an inpatient facility. While that's not true for everyone, there are certainly a number of benefits to outpatient rehab. Some people do see it as inferior or less helpful than inpatient rehab, but that's simply not true. It's a different option and, for some, it's the best. Good Landing offers an intensive outpatient program combined with a faith based drug treatment program that may be perfect for your loved one.
What Is Outpatient Rehab?
Outpatient rehab is an addiction recovery program designed to treat addicts while giving them the freedom to stay in their own home (or with a trusted friend/relative). Patients come to Good Landing Recovery on specific days of the week at specific times to work with our therapists and other recovery professionals. Outpatient recovery is very similar to inpatient rehab in a number of ways:
Individuals work with therapists to discover and address the root cause of their addiction.
Patients attend group therapy sessions with other addicts.
Family members may work with their loved ones in family counseling sessions.
Addicts learn the tools needed to become and remain sober.
There are some differences between the two types of programs as well. Outpatient rehab gives patients more trust. We trust them to return to their homes at night and enjoy the weekends without using drugs or alcohol. We trust them to be motivated to live sober lives and to come to Good Landing as scheduled. While these programs may not be right for someone with a very serious addiction problem, they can be perfect for those who are trying to defeat their addiction before they lose everything.
The Benefits of an Outpatient Rehab Program
There are a number of different benefits to going through an outpatient program instead of inpatient rehab.
They Can Keep Working or Going to School
The first is that your loved one will have more freedom and may be able to continue to work or attend school with some small modifications. This can help those who still have some control over their lives. Many employers and school administrators are very willing to work with addicts who want to attend an outpatient program.
They Can Stay at Home
By remaining in their homes and having some sense of freedom, these patients are able to remain in a comfortable, known environment. They don't need to get used to living somewhere else or with others. While sometimes being removed from a harmful environment and living at a facility where the focus is completely on rehab is necessary, other times it's not. By doing outpatient treatment, your loved one can continue living at home or with someone else to maintain a sense of normalcy. This also allows them to remain near their loved ones and friends. They're able to lean on your support during their rehab, which is invaluable. Those who don't make friends easily may find it easier to talk to their loved ones than other addicts in rehab.
It's More Affordable
Cost is one of the biggest barriers to treatment that many people face. Because an outpatient program doesn't include the cost of a room or as many meals, it's much more affordable. This will help your loved one get help without impacting their finances as much. Outpatient programs accept insurance, too, so often there's little to no cost.
They Learn by Doing
In rehab, much of the focus is on recognizing what drove the patient to using drugs and how they can avoid relapsing. Unfortunately, there are many different coping skills out there, and not all of them work for everyone. A former addict may leave an inpatient facility and suddenly find that the coping skills they're using aren't right for them. With outpatient recovery, the addict is learning by doing. They're still on their own much of the time, so they have to be certain they can resist their addiction. If they find it very difficult to do so, they can talk about it. They can start learning other mechanisms that may work better for them.
Good Landing Recovery Outpatient Rehab Services
When your loved one enrolls in our outpatient program, one of the first things we will do is sit down with them and create a treatment plan. This plan will have a number of goals to reach as well as a roadmap outlining how to reach those goals. This plan will be built on information your loved one shared with us about their addiction, their life, and what they want to achieve.
We Have Options
Your loved one will decide which of our intensive outpatient programs they want to enroll in. We offer a three-day and a five-day option. In the first, patients come to Good Landing three times a week, while in the second, they attend daily and have weekends free.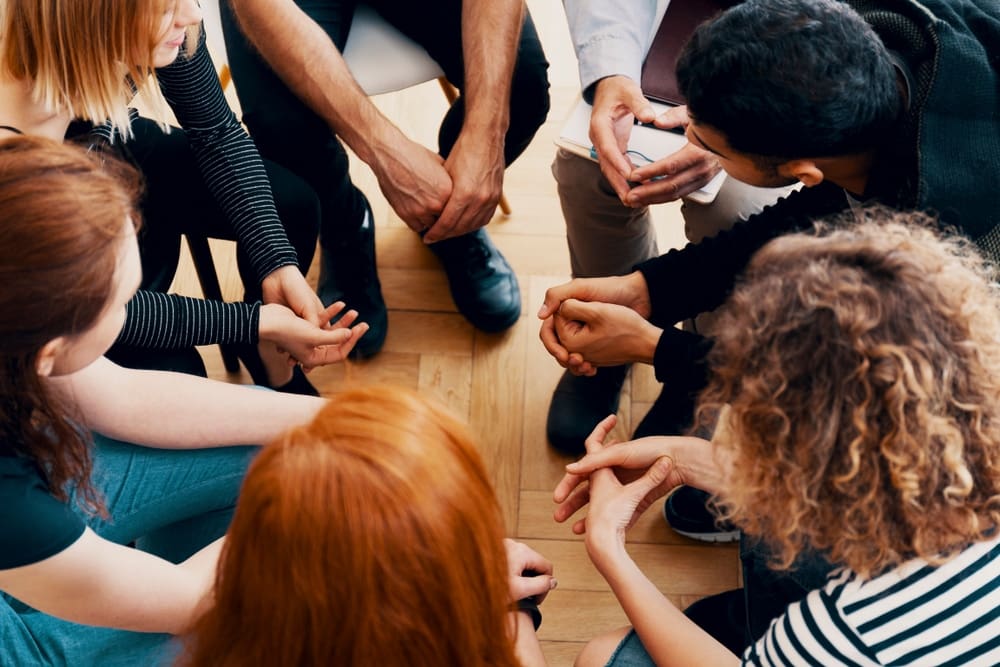 We also have two groups: one that meets in the morning and one that meets in the evening. This flexibility allows participants to continue working or going to school while still receiving the treatment they need to kick their addiction. Those who work during the day can attend our evening program, while those who prefer more time in the evening to be with loved ones can attend earlier in the day.
Individual and Group Therapy
Our outpatient program is still highly focused on therapy. Each patient will meet with their therapist regularly and will attend nine hours of group therapy every week. Family therapy sessions are also available on an as-needed basis. If an addict's addiction seems to stem from family relationships or from a family event, we encourage their loved ones to participate in a counseling session.
Evaluations
Participants meet monthly with a doctor and a psychiatrist for an evaluation. This helps hold the addict accountable for their sobriety while also giving them regular checkups that may catch developing physical or mental conditions caused by the addiction. Check-ups can be arranged more often if necessary.
Now that you understand a little more about our outpatient rehab program, we hope you'll encourage your loved one to reach out to us. We're here to help them beat their addiction and regain control over their life. Contact us today with any questions you may have.
TAKE THAT FIRST STEP NOW!
These services provided encompass a wide variety of therapeutic settings and intervention modalities.
Contact Us
CALL US NOW!
Admissions: (770) 624-2728
Main Office: (770) 450-6120
Our Address
Admissions: (770) 624-2728
Main Office: (770) 450-6120